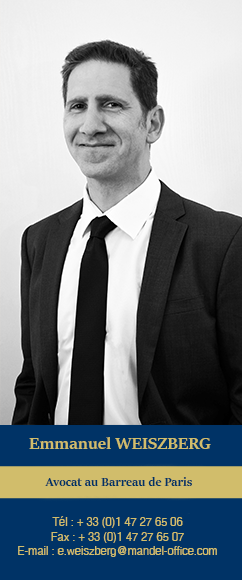 His activities
After working as in-house Counsel for a certain number of years, Emmanuel WEISZBERG was admitted to the Paris Bar in 1998 when he joined the firm (then known as « Mandel & Bochurberg » (1998-2000) before joining SCP Bitoun et Associés, specialized in Intellectual Property and contributor to Lamy « Droit des médias et de la communication » (2000-2002).
Thereafter, while developing his own independent activities, Emmanuel WEISZBERG decided to revert to MANDEL-ASSOCIES in a special "of-counsel" capacity.
As such within MANDEL-ASSOCIES, Emmanuel WEISZBERG is in charge of the Labor Law Department and advises Clients on all aspects of French labor regulations, drafts employment agreements, conducts negotiations and provides guidance in case of individual dismissal or economic redundancy. He will also litigate before the Labor Courts both in Paris and in the provinces.
Emmanuel WEISZBERG is also experienced in the fields of business law and intellectual property and develops his practice independently in those areas, providing his prime assistance to authors and artists and when applicable to the industry in the sectors of Advertising, Media and Entertainment, Fashion and Publishing.
Admitted
Paris (1998) Admitted to appear before all French Courts and administrations.
Education
Paris XI (DESS de droit international, 1993).
Emmanuel WEISZBERG worked in publishing. Admitted to the Bar in 1998, he first joined the firm known as such time as Mandel & Bochurberg and worked then with Bitoun & Associés, a firm focusing on Media and Entertainment (2000-2002). He returned to MANDEL-ASSOCIES in 2002 while developing his own independent activities.
Representative publications
"Board directorship and employee status ?" (Cumul d'un contrat de travail et d'un mandat social), in L'Essentiel du Management.
"Press cartoonist : employee or independent author ? " (La reconnaissance de la qualité de salarié du dessinateur de presse), Review of two decisions of the Court of Appeals of Paris, January 15, 2004.
Legal assistance for the publishing of the book « Cent ans, cent photos, les présidents américains », published by Le Monde (French newspaper), 2004